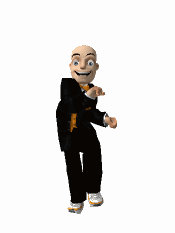 Bloggers
are always searching for greater
website traffic
, and I'll admit that I'm no exception. I always hope that the things that I find interesting are also interesting to others. So, I try to post content or video clips that are either entertaining or socially relevant.
S

logBite
is a new
social networking
site designed to increase blog traffic by increasing blog visibility. To be honest, the thing that attracted me to the site was the guy dancing above. But, after visiting
SlogBite
, I found that the site was very user friendly and that many of my fellow bloggers were already listed there, even though the site is still in beta stage.
SlogBite
is basically a blog directory. While the site is in pre-launch, there is long registration, and best of all, it's free. And we're all looking for more free traffic. You can also list your blog in as many catagories as you like.
Occassionally, I seek out ways to attract new new readers (and hopefully, new subscribers) by by either applying
SEO
techniques to make this blog more search engine friendly, or by investing hours into site promotion through advertising and link dropping. But, what I like about
SlogBite
is that the only thing necessary is to list your blog and paste a badge on your site.
For time challenged blogger like me, nothing could be easier.